Sustainable Statement
Seafood is the core business of the CMU Associates, Inc. and its associated companies. As such, the CMU family of companies is committed to providing its customers with sustainable wild-caught and farm-raised seafood products. CMU is also committed to being a responsible company by using its seafood sourcing and marketing role to support responsible fishing and farming practices needed to produce sustainable seafood.
CMU believes that the sustainability of seafood is the result of the process of understanding, monitoring and managing the ecosystem impacts of capture fisheries and aquaculture. Fisheries and fish farming are both dynamic and change can either be negative, short-sighted and unsustainable, or positive in achieving long-term sustainability while meeting a growing global demand for seafood. For this reason, a responsible company must remain vigilant to changes in fisheries and fish farming practices, and respond in a responsible manner to provide customers and consumers with sustainable seafood. Due to the dynamic nature of fisheries and aquaculture, the CMU Sustainability Statement will continue to evolve as required.
Wild-caught Domestic Seafood from American fisheries.
CMU's policy is to source seafood products from Hawaii and other American fisheries that are fully-traceable to a U.S. fishery that is managed with defined targets for sustainability under a science-based, transparent, inclusive, responsive, pre-cautionary and accountable fishery management system. For federally-managed fisheries, the competent authority is NOAA Fisheries Service with support from one of the eight Regional Fishery Management Councils mandated by the Magnuson-Stevens Fishery Conservation and Management Act. All of our wild-caught seafood from Hawaii is traceable to fisheries managed under Fishery Ecosystem Plans developed and maintained by the Western Pacific Regional Fishery Management Council and implemented by the NOAA Fisheries Pacific Islands Regional Office.
Wild-caught Imported Seafood.
CMU's policy is to source and import seafood that is traceable to fisheries in countries that are making verifiable steps towards responsible fishing and management systems needed to produce sustainable seafood. Many of the countries exporting wild-caught seafood to the U.S. market do not have fishery management or traceability systems equal to the intensity of U.S. fishery management. For this reason, CMU seeks to be a force for positive change in the sustainability of global fisheries. As a step to achieve this goal, CMU is actively engaged in promoting sustainable bottomfish fisheries in Indonesia through its commitment to a Fishery Improvement Project (FIP) along with the Sustainable Fisheries Partnership. Fisheries operating under a credible FIP are taking affirmative and verifiable steps towards meeting the requirements of Marine Stewardship Council sustainable seafood certification. Positive change is underway.
Farm-raised Domestic Seafood from American Aquafarms.
CMU's policy is to support American aquaculture by procuring farm-raised seafood products that are traceable to farms that undergo intensive planning, permitting and monitoring of environmental impacts on freshwater, marine and land resources by local, state and federal agencies.
Farm-raised Imported Seafood from Aquafarms in other Countries.
CMU's policy is to procure imported farm-raised seafood from farming operations that the company determines to be conducted in a responsible and environmentally sustainable manner.
---
Sustainable Fisheries Partnership: WWF, FIP, Supporting the Futures of Indonesian Fisheries
CMU & Associates is pleased to announce it has recently partnered with their supplier and Sustainable Fisheries Partnership (SFP) under the Fishery Improvement Project (FIP), in a joint venture to promote sustainability for bottom fish (snapper/grouper) from Indonesia. Within the industry, Hilo Fish Company (HFC) is recognized for their signature label, Krimson, an exceptional line of premium frozen fish products that other brands are measured against. The new FIP logo will be placed on all cartons and the labels for snapper/grouper from Indonesia sold by CMU & Associates.
This partnership not only promotes sustainability, it enforces traceability to ensure that the origin and status of snapper and grouper products are well known and all products are sourced from legal fisheries.
SFP is a large organization that works closely with several different companies on educating and accessing information on different fisheries to develop programs working towards sustainability.
This joint venture is currently in stage four and working towards a supply of sustainable snapper and grouper. SFP also works with other groups and organizations on several different types of Fisheries Improvement Projects in which some of these companies have reviewed and accepted the FIP for snapper and grouper. An example of a company who has reviewed and accepted the FIP is Fish Wise who is currently working closely with leading supermarkets nationwide on the sustainability program.
CMU & Associates are also working with their supplier and Sustainable Fisheries Partnership to create a new FIP for tuna from Indonesia with the assistance and guidance of SFP. It is in the early planning stages and this project is anticipated to be started in the near future.
Arafura, Aru and Timor Seas Snapper and Grouper
Fishery Improvement Project
---
World Wildlife Fund
WWF supports sustainable fishing and good governance in geographic places such as the Arctic, the Indian Ocean, the Pacific, the Southern Cone and on the high seas. WWF focus the efforts on reducing the impact of fishing that is making a considerable footprint on the world's most ecologically important marine ecoregions and conserving the most commercially valuable species such as tuna and whitefish.
CMU& Associate is pleased to present is certification. The objective of the WWF Certification is to get the right fisheries management in place and promote technological advances such as the Automatic Identification System (AIS) to increase transparency of fishing operations at sea.
Create sustainable market incentives – spurring fishers, processors, buyers and retailers to commit to certified fisheries, and to purchase and sell seafood products that can be traced back to their origin.
Make sure money is well-invested to safeguard livelihoods and secure long-term fisheries recovery
---
Supporting the Futures of Indonesian Fisheries
CMU & Associate is pleased to announce that its Indonesian suppliers received the SFIF Certification. This certification marks the collaboration and best practices development for active and passive vessel tracking and traceability. The goal of this collaboration is to determine the most efficient and cost-effective traceability solution for broader fleet applications for artisanal and large boat fleets.
---
Sustainable Seafood
Eating sustainable seafood is an easy way to help support the environment just by choosing wisely. Sustainable seafood is that which comes from places that do not harm the long-term survival of fish species and their ecosystems. It has benefits for the environment, health, and the world's poor.
BENEFITS for the environment:
Overfishing is causing 70% of fish species to be fished close to or at their capacity. Certain methods of fishing pollute and degrade entire ocean ecosystems. In fact, if current trends continue, the populations of almost all seafood will collapse by 2048. Eating sustainable seafood alleviates some of these stresses on the environment.
BENEFITS for your health:
Seafood is great for your health, and the American Heart Association recommends eating fish at least twice a week. Fish caught unsustainably tends to be from a species higher up on the food chain, which absorb higher concentrations of toxic pollution.
BENEFITS for the world's poor:
Over 120 million people worldwide rely on the fishing trade for all or part of their income. Plus, fish is the primary source of protein for one in five people worldwide. However, with overfishing and environmental degradation, the quantity and quality of fish able to be farmed is much lower across the planet than it once was. Sustainable seafood ensures the long-term survival of the millions of people tied to the industry.
---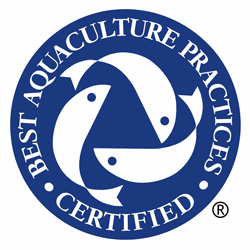 Best Aquaculture Practices
BAP is the world's most trusted, comprehensive and proven third-party aquaculture certification program. We've been improving the environmental, social and economic performance of the aquaculture supply chain and growing the global supply of responsibly farmed seafood since 2002.
BAP Certification Benefits:
Third-party certification, ensuring that your audit is fair, objective and traceable.
The only aquaculture certification that encompasses the entire production chain: farms, processing plants, hatcheries and feed mills.
The standards cover virtually 100% of the finfish, crustacean and mollusk species produced around the globe.
The standards are scientific, rigorous and always evolving to meet challenges in aquaculture.
More than 150 retail and foodservice companies worldwide are publicly committed to sourcing seafood from BAP-certified facilities.
To be BAP certified is to prove your commitment to the environment, social integrity, and the health of the animal and consumer.