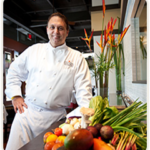 JAPANESE HAMACHI SASHIMI
by CHEF GEORGE GOMES, JR.
Mauna Kea Beach Hotel, Waikoloa, Hawaii
Ingredients
2 ounces Hamachi
1 ½ TB Radish
1 ½ TB Sea Asparagus
1 ½ TB Ikura
1 TB Smoked Soy
Vinaigrette (Yamasa Soy)
2 pieces Micro Shiso Leaf
1 ½ TB Sushi Vinaigrette Mix (store bought)
Kosher salt to taste
Method
Slice Hamachi. In a bowl, marinate Ikura in the sushi vinaigrette mix.
On a plate, place the Hamachi in the center of the plate and add the soy.
Add the Ikura around the plate and on the Hamachi. Garnish with the Shiso Leaf, Sea Asparagus and
Radish. Sprinkle with salt.